With the broadcast of the ten part Miracle Day looming (at least in the US, where it starts on 8 July at 10pm on Starz) I thought it would be a good idea to post a round up of all the trailers and synopses:
LOGO
Full Series Synopsis
When C.I.A. agent Rex Matheson investigates a global conspiracy, he finds himself unearthing a threat which challenges the entire Human race.The answers seem to lie within an old, secret British institute, known only as Torchwood. But Torchwood was destroyed, years ago, and the keys to the institute are held by its only two survivors - former Police Officer Gwen Cooper who has long since disappeared along with her husband and child, and the mysterious Captain Jack Harkness, a man whose history seems to stretch back centuries.
With Rex under attack from all sides, in both the US and the UK, he soon discovers there are forces at work within every level of society, determined to stop Torchwood's return. As a chain of events across the world links together the most disparate and unlikely individuals - including a surgeon, a killer, senators and CEOs - a new Torchwood team takes shape. But this time, the threat is much closer to home, as they realize that their greatest enemy is mankind itself...
One day, nobody dies. All across the world, nobody dies. And then the next day, and the next, and the next, people keep aging -- they get hurt and sick -- but they never die. The result: a population boom, overnight. With all the extra people, resources are finite. It's said that in four months' time, the human race will cease to be viable. But this can't be a natural event – someone's got to be behind it. It's a race against time as C.I.A. agent Rex Matheson investigates a global conspiracy. The answers lie within an old, secret British institute. As Rex keeps asking "What is Torchwood?", he's drawn into a world of adventure, and a threat to change what it means to be human, forever.
POSTERS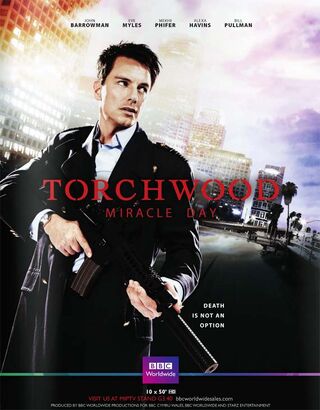 CAST
Captain Jack Harkness- John Barrowman
Gwen Cooper- Eve Myles
Rhys Williams- Kai Owen
Rex Matheson- Mekhi Philfer
Esther Drummond- Alexa Havins
Oswald Danes- Bill Pullman
Dr. Vera Juarez- Arlene Tur
SECONDARY CAST
Sergeant Andy Davidson- Tom Price
Geriant Cooper- William Thomas
Mary Cooper- Sharon Morgan
Jilly Kitzinger- Lauren Ambrose
GUEST CAST
TBA- Dichen Lachman
Dr. Alicia Patel- Lena Kaur
Surveillance- Danny Szam
Guard- Daniel Adegboyega
TBA- Wayne Knight
TBA- Ernie Hudson
TBA- Christopher Thomas Howell
Brad- Dillon Casey
TBA- Nana Visitor
TBA- John De Lancie
EPISODE GUIDE*
1. The New World- 8 July at 10pm
When death itself comes to a halt, the world faces its greatest danger yet. CIA agent Rex Matheson has only one clue- Torchwood.
2. Rendition- 15 July at 10pm
As the Torchwood team is reunited, Jack realises that he's the most vunerable man on Earth. A flight to the United States turns into a desperate battle for survival.
3. Dead of Night- 22 July at 10pm
Torchwood goes on the run and finds a new enemy, but as they launch a raid on PhiCorp

headquarters

, Jack must confront the mysterious Oswald Danes.
4. Escape to LA- 29 July at 10pm
The fight against PhiCorp takes the Torchwood team, where a trap is waiting. Meanwhile, Oswald and Jilly find themselves with an enemy of their own.
5. The Categories of Life- 5 August at 10pm
Torchwood goes undercover and discovers the terrible truth behind the Miracle. The enemy is closing in, and death is about to make a shocking return.
6. The Middle Men- 12 August at 10pm
With Gwen, Rex and Esther trapped on both sides of the Atlantic, it's a race against time as Jack goes straight to the heart of the conspiracy.
7. Immortal Sins- 19 August at 10pm
Gwen must fight to protect her family and takes a terrifying journey, covering both miles and decades, as the long history of the Miracle is revealed.
Episode 8 (End of the Road), Episode 9 (The Gathering) Episode 10 (The Blood Line) will presumably air on 26 August, 2 September and 9 September in the US.
TRAILERS: TEASER
Reviews from the press release:
And some dialogue teasers from Cult Box: